Max. Suction Depth: 7 ft.
Suction Hose Length: 16 ft.
Discharge Hose Length: 8 ft.
Power Cable Length: 12 ft.
Power Consumption: 1800W
Power Requirement: 110-120V / 60Hz
Dimensions (L x W x H): 16 x 16 x 27 in.
Limited Warranty: 2 years
The best-selling, patented pond vacuum that doesn't take a break!
Many pond maintenance needs can be addressed by removing sludge and debris build-up around the pond.
The PondoVac 4's dual-chamber suction system provides continuous suction and makes the necessary but bothersome task of cleaning the pond of sludge, fish waste, decaying vegetation and other floor sediment easy and quick.
With its powerful 1700W motor, assorted nozzle attachments and many accessories, PondoVac not only excels at pond cleaning but can also be used as a wet vacuum around the house and for cleaning swimming pools.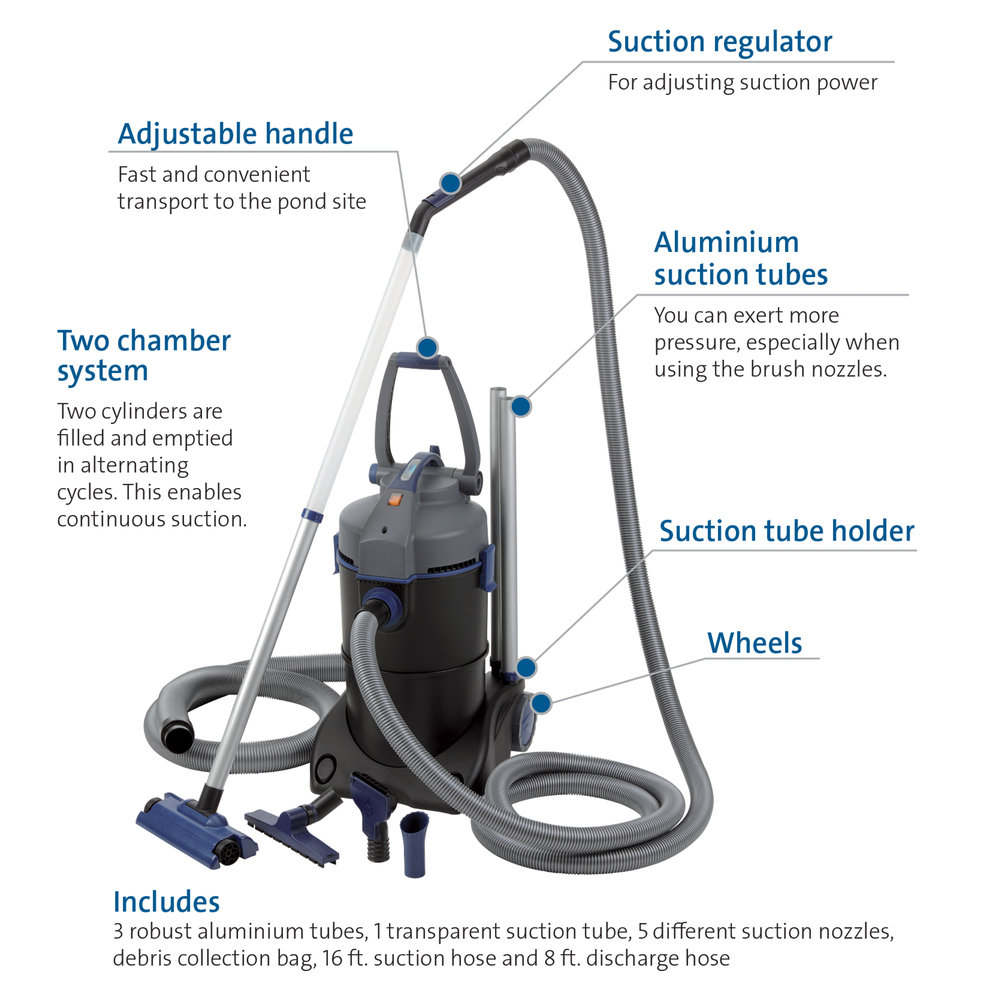 Fits all Matala Pond Vacuums and Most other Brands Designed to vacuum debris from a gravel bottom pond 8.5 inch Diameter head with universal adapter Easily cleans debris from up to 2 inch deep gravel
The new energy efficient 1.5 H.P. motor is made with high quality German made components. In suction tests,
Matala Pond Vac II
is four times more powerful than its competition with a suction lift 5'...(click on product image for more details)
MATALA Pond Vac -MPV PLUS
Suction lift 5 feet above water Capacity 6.6 Gallons Suction Hose Length 16 ft. Discharge Hose Length 8 ft Power Cord length 16 ft Dimensions...(click on product image for more details)
Pond Vacuums and Vacuuming
your pond occasionally will greatly improve water quality and clarity. No matter what you have for a filtration system some solid debris will end up on the bottom and should be...(click on product image for more details)
Matala Power-Cyclone Pond Vacuum Non Stop Vacuum With Power Discharge. Pond Maintenance Made Easy!
Features:
Powerful Non Stop Vacuum with balanced power discharge pump Innovative design with
2...(click on product image for more details)
Pentair Aquatics Mini Pond Vac
Designed for use with a garden hose and a silt bag, or 1-1/4" or 1-1/2" vacuum hose. Includes: silt bag, hose adapter, shut-off valve, and snap-adapt for the handle....(click on product image for more details)
The "MUCK VAC" is another innovative product designed to aid the back yard pond keeper as well as fountain and water feature owners. The product vacuums out dirt and debris without causing turbidity so...(click on product image for more details)
The PondoVac 3's patented dual-chambers fill and empty in alternating cycles allowing for non-stop vacuuming and effective pond maintenance. It features a strong 1600W motor, with a maximum suction...(click on product image for more details)
Now even more powerful, the multi-function PondoVac 5 vacuum thoroughly and effortlessly removes debris and silt from ponds or pools, or from wet floors of any type. Thanks to the integrated wastewater...(click on product image for more details)
Pond Vac
PT840
PowerClean Cordless Pond Cleaner
• Continuous water flow • Easy prime • Lightweight and balanced • Battery operated - 18 V DC • Comes complete with charger - fully charged in...(click on product image for more details)